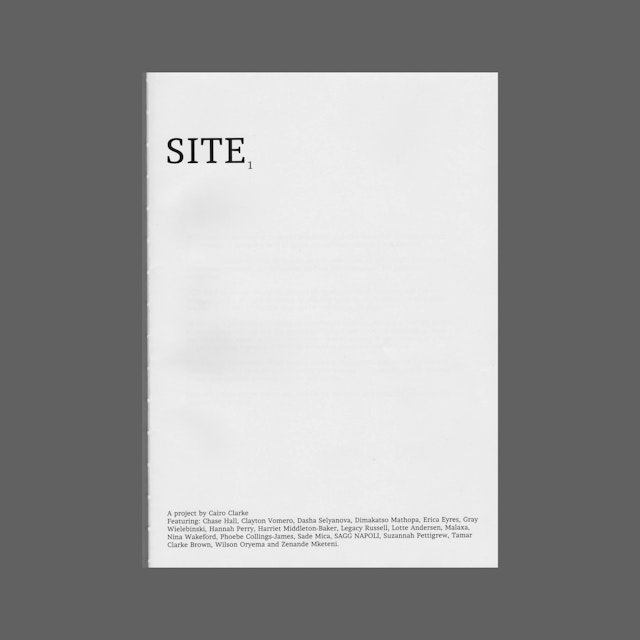 SITE is a hybrid artist management and commissioning initiative run by Cairo Clarke, combining strategic support and curatorial experimentation based on autonomy, agency and exchange.

SITE exists as an annual publication using print as a format to set up alternative encounters with artists, research and exhibition that are incomplete and not geographically dependent. Exploring different modes of exhibition and dissemination of artist practice and printed research, it is a product of precarity, lack of space, accessibility, visibility, funding.
First edition includes contributing artists: Chase Hall, Clayton Vomero, Dasha Selyanova, Dimakatso Mathopa, Erica Eyres, Gray Wielebinski, Hannah Perry, Harriet Middleton-Baker, Legacy Russell, Lotte Andersen, Malaxa, Nina Wakeford, Phoebe Collings-James, Sade Mica, SAGG NAPOLI, Suzannah Pettigrew, Tamar Clarke Brown, Wilson Oryema and Zenande Mketeni.
SITE can be found as part of The Studio Museum in Harlem's Radical Reading Room Exhibition open 3rd May - 27th October 2019.

SITE launches 4th September 2019 at Mimosa House more information here.
5th - 8th September London Art Book Fair, Whitechapel Gallery
19th - 20th October Bound Art book Fair, The Whitworth, Manchester